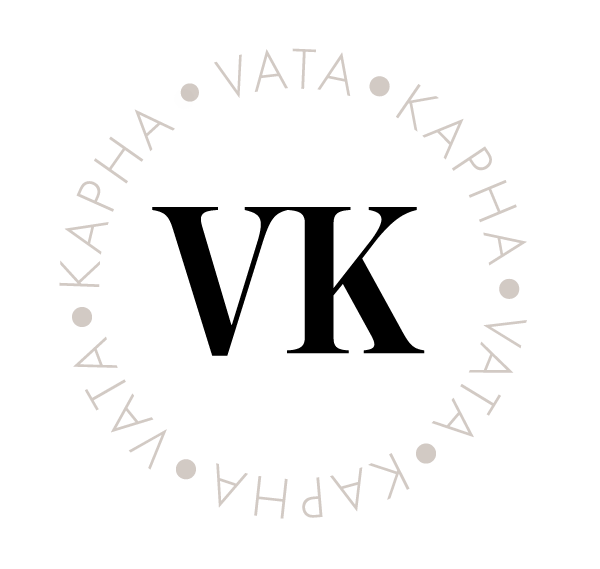 WOW…LOOK AT YOU! YOU HAVE HIGH LEVELS OF ENTHUSIASM, CREATIVITY, AND SENSITIVITY COMBINED WITH PHYSICAL AND EMOTIONAL STABILITY. YOU ARE USUALLY SYMPATHETIC, COMPASSIONATE, PEACEFUL, CALM, AND CREATIVE.
What is "Vata-Kapha"?
Vata-Kapha is your dosha type. What is a dosha? It's simply the Ayurvedic definition for your bio-individuality. In other words it's your body type, which includes your metabolic constitution, your personality, and your physical characteristics.
By understanding what makes us unique, we can make better decisions as they relate to our diet, our lifestyle, and our mental health.
So I'm A Vata-Kapha. What Does This Mean?
Embodied by air and earth, Vata-Kapha's are creative yet grounded. However, warmth can be lacking in the Vata-Kapha individual. Because of this lack of innate warmth, you become out of balance by cold foods and drinks, skipping meals, over-eating when you do eat, and exposure to cold, wet and windy weather. 
Other health challenges include digestive problems, most notably constipation, respiratory ailments, generally low immunity, over-sensitivity to environmental factors, and restless sleep. 
Typical Vata-Kapha Characteristics:
HOW DO YOU KNOW YOU HAVE PUSHED YOUR LIMITS?
We often think of our health in terms of symptoms. We have a headache, or indigestion, or skin irritation. However, symptoms are just that, symptoms of an underlying problem or imbalance.
At The Holistic Highway we work with patients to treat the underlying cause of their imbalance and not just their symptoms.
To use an analogy, if you have a headache, we want to determine and treat the cause of your headaches, not just prescribe Tylenol for the pain. This is health-care, not sick-care, and it's the key to long term health, energy and vitality.
SIGNS & SYMPTOMS OF IMBALANCE:
LIFESTYLE RECOMMENDATIONS TO GET BACK IN BALANCE:
In order to eliminate symptoms and get back in balance, consider the following recommendations.
If you like, you can add 3-4 drops of a pure essential oil such as bergamot which is antibacterial, anti-infectious, anti-inflammatory and antispasmodic. It's uplifting, improves your digestion and keeps your system working properly or camphor which has properties as a stimulant, its antispasmodic, antiseptic, is a decongestant, an anesthetic, a sedative and a nervous pacifier, its anti-neuralgic, anti-inflammatory, a disinfectant, and an insecticide substance. to 2 oz. of massage oil. Mix well before use
Two or three times a week, massage your scalp with warm oil, and let the oil stay for an hour or two before you shampoo. After your shower or bath, apply a generous coating of a pure, gentle moisturizer all over your body to keep your skin feeling smooth and warm all day long.
Triphala is made up of three fruits and is most commonly purchased as a powder.
Triphala has the following effects:
Triphala is most commonly known for its use as a gentle bowel tonic, being helpful in digestion, and supporting regular bowel movements. The combination of the three fruits has a synergistic effect to bolster many other systems as well.
In addition to the GI tract, Ayurveda uses triphala to support healthy respiratory, cardiovascular, urinary, reproductive, and nervous systems. Triphala has also been shown to be a powerful antioxidant, protecting cells from the damaging effects of free radicals.
The three fruits involved in making triphala are also known for their individual effects:
A GREAT VATA-KAPHA PACIFYING LUNCH FOR YOU:
Red Lentil Dahl with Beets and Coriander
Serves 6.
Although lentils include beneficial nutrients like fiber, protein, minerals and vitamins, they are still low in calories and contain virtually no fat. One cup of cooked lentils only contains about 230 calories, but still leaves you feeling full and satisfied.
Lentils also increase steady, slow-burning energy due its fiber and complex carbohydrates. Lentils are also a good source of iron, which transports oxygen throughout your body and is key to energy production and metabolism. This power packed lunch will keep you energized and trim.
1. Rinse the beans and soak in 4 cups cold filtered water for 30 minutes and strain.
2. Put the beans, beets, and water in a saucepan. Bring to a boil over high heat, stirring occasionally.
3. Meanwhile, put the coriander in a skillet. Cook over medium heat until it darkens slightly and you can smell the fragrance, about 1 minute. Stir in the asafetida, remove the skillet from heat, and stir the spices into the lentil mixture along with the turmeric, sage, pepper and lemon juice.
4. When the mixture reaches a boil, reduce the heat and simmer partially covered, stirring occasionally, until thick, 45-60 minutes. Add salt to taste.
Serve hot.
real food isn't made from ingredients
REAL FOOD IS INGREDIENTS.
Enjoy delicious, healthy meals that are specifically designed for the metabolism of a Vata-Kapha with an Ayurveda Meal Plan from The Holistic Highway.
Try a Vata-Kapha meal plan for free with a 14 day trial. If for whatever reason you aren't satisfied with your plan, you can cancel at the click of a button, no questions asked, and never pay a dime. After that, it is just $6.99 a month. What have you got to lose? Sign up today!
Putting the right foods in your body is the number one factor in determining your health and energy levels.
Want to eat delicious, healthy foods that are right for you all the time?
These budget-friendly meal plans include everything you need to eat the foods that are right for you every night of the week. No more "What's for dinner?" No more time consuming dinner prep or expensive take out.
Just simple, easy to make dinners that are right for you.
Try a meal plan designed just for you with a 14 day trial. If for whatever reason you aren't satisfied with your plan, you can cancel at the click of a button, no questions asked, and never pay a dime. After that, it is just $6.99 a month. What have you got to lose? Sign up risk free below!
"EVERYONE IS DIFFERENT, AND AS SUCH, YOUR TREATMENT MUST REFLECT YOUR INDIVIDUALITY." -Watch The Breakthrough TEDx Talk by Kerry Harling, CEO and founder of The Holistic Highway

We Want To Get To Know You
What To Expect From Your Consultation:
The purpose of a consultation is to better understand your health challenges and goals. From there we can determine if we can help. If we believe our approach to personalized medicine can support you we will recommend the service we think is ideal for you.
However, We Can't Help Everyone…
But by having our practice at the University of Pittsburgh's Center For Integrative Medicine it is highly likely we know someone who can no matter where you are located. If your health challenges are best suited for a professional in another discipline of medicine we are more than happy to connect you with someone who is better suited to deliver the support you need. The center consists of classically trained doctors, chiropractors, acupuncturists, etc… that are highly skilled and thoughtful professionals.
Simply fill out the intake form at the link below to get started, afterwards you will be directed to an online calendar where you can book this initial phone consultation at your convenience. We look forward to learning more about you!