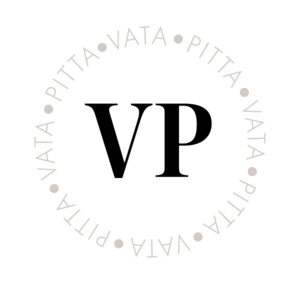 YOU ARE AN INTENSE PERSON, BLUNT, YET CREATIVE. THIS ALLOWS YOU TO INSPIRE AND MOTIVATE OTHERS. YOU ARE A NATURAL LEADER, OFTEN WELL ORGANIZED AND A PERFECTIONIST. NO-ONE CAN DO THE JOB AS WELL AS YOU!
What is "Vata-Pitta"?
Vata-Pitta is your dosha type. What is a dosha? It's simply the Ayurvedic definition for your bio-individuality. In other words it's your body type, which includes your metabolic constitution, your personality, and your physical characteristics.
By understanding what makes us unique, we can make better decisions as they relate to our diet, our lifestyle, and our mental health.
So I'm A Vata-Pitta. What Does This Mean?
FIRE AND AIR COME TOGETHER TO PREDOMINATE YOUR CONSTITUTION, GIVING YOU THE ABILITY TO ACCOMPLISH MANY GREAT THINGS. 
Typical Vata-Pitta Characteristics:
HOW DO YOU KNOW YOU HAVE PUSHED YOUR LIMITS?
We often think of our health in terms of symptoms. We have a headache, or indigestion, or skin irritation. However, symptoms are just that, symptoms of an underlying problem or imbalance.
At The Holistic Highway we work with patients to treat the underlying cause of their imbalance and not just their symptoms.
To use an analogy, if you have a headache, we want to determine and treat the cause of your headaches, not just prescribe Tylenol for the pain. This is health-care, not sick-care, and it's the key to long term health, energy and vitality.
SIGNS & SYMPTOMS OF IMBALANCE:
LIFESTYLE RECOMMENDATIONS TO GET BACK IN BALANCE:
In order to eliminate symptoms and get back in balance, consider the following recommendations.
Triphala is made up of three fruits and is most commonly purchased as a powder.
Triphala has the following effects:
Triphala is most commonly known for its use as a gentle bowel tonic, being helpful in digestion, and supporting regular bowel movements. The combination of the three fruits has a synergistic effect to bolster many other systems as well.
In addition to the GI tract, Ayurveda uses triphala to support healthy respiratory, cardiovascular, urinary, reproductive, and nervous systems. Triphala has also been shown to be a powerful antioxidant, protecting cells from the damaging effects of free radicals.
The three fruits involved in making triphala are also known for their individual effects:
If you like, you can add 3-4 drops of a pure essential oil such as lavender or sandalwood to 2 oz. of massage oil. Mix well before use. Lavender is known as a nervine which means it calms the central nervous system.
Two or three times a week, massage your scalp with warm oil, and let the oil stay for an hour or two before you shampoo as this is really calming to the central nervous system.
After your shower or bath, apply a generous coating of a pure, gentle moisturizer all over your body to keep your skin feeling smooth and cool all day long.
Eat a nourishing lunch at mid-day and lighter meals at breakfast and dinner. Sit down to eat each meal, eat in a peaceful atmosphere with your attention on your food, and sit quietly for a few minutes after your meal. If your digestive fire is irregular, practicing these eating habits will help make it more regular.
A GREAT VATA-PITTA PACIFYING LUNCH FOR YOU:
Wild Rice Salad with Fennel – serves 2 
This salad is great for balancing Vata and Pitta. Fennel contains iron and histidine, an amino acid found in fennel, both are helpful in the treatment of anemia. Whereas iron is the chief constituent of hemoglobin, histidine stimulates production of hemoglobin and also helps in the formation of various other components of the blood. Fennel also facilitates digestion and eliminates bad breath.
Some of the components of the essential oils in fennel are stimulants and they stimulate secretion of digestive and gastric juices, while reducing inflammation of the stomach and intestines, and facilitating proper absorption of nutrients from the food. Furthermore, fennel can eliminate constipation and it also has antiacidic (basic) properties. Fennel is very popular as an antiflatulent, due to the carminative properties of the aspartic acid found in fennel.
Its extract can be used by everyone, from infants to the elderly, as a way to reduce flatulence and to expel excess gas from the stomach.
Directions
1. Bring 425 ml of water to the boil, add the rice and a little salt, cover and simmer for 18-20 minutes, or until the rice is cooked and all the water is absorbed.
2. Meanwhile, rinse and dry the fennel, and apple. Finely dice the apple; trim and thinly slice the fennel. Place in a salad bowl. Chop the walnuts and add along with the soaked raisins.
4. To make the herb dressing, squeeze juice from the lemon and pour into a small bowl. Rinse, dry, and finely chop the fennel fronds, fennel seeds, and parsley and add to the juice with the oil and vinegar. Whisk together, then season to taste.
5. Drain the cooked rice and rinse it briefly under a cold tap. Drain well, mix into the salad vegetables and pour the dressing over. Garnish with sprigs of parsley.
real food isn't made from ingredients
REAL FOOD IS INGREDIENTS.
Enjoy delicious, healthy meals that are specifically designed for the metabolism of a Vata-Pitta with an Ayurveda Meal Plan from The Holistic Highway.
Try a Vata-Pitta meal plan for free with a 14 day trial. If for whatever reason you aren't satisfied with your plan, you can cancel at the click of a button, no questions asked, and never pay a dime. After that, it is just $6.99 a month. What have you got to lose? Sign up today!
Putting the right foods in your body is the number one factor in determining your health and energy levels.
Want to eat delicious, healthy foods that are right for you all the time?
These budget-friendly meal plans include everything you need to eat the foods that are right for you every night of the week. No more "What's for dinner?" No more time consuming dinner prep or expensive take out.
Just simple, easy to make dinners that are right for you.
Try a meal plan designed just for you with a 14 day trial. If for whatever reason you aren't satisfied with your plan, you can cancel at the click of a button, no questions asked, and never pay a dime. After that, it is just $6.99 a month. What have you got to lose? Sign up risk free below!
"EVERYONE IS DIFFERENT, AND AS SUCH, YOUR TREATMENT MUST REFLECT YOUR INDIVIDUALITY." -Watch The Breakthrough TEDx Talk by Kerry Harling, CEO and founder of The Holistic Highway
We Want To Get To Know You
What To Expect From Your Consultation:
The purpose of a consultation is to better understand your health challenges and goals. From there we can determine if we can help. If we believe our approach to personalized medicine can support you we will recommend the service we think is ideal for you.
However, We Can't Help Everyone…
But by having our practice at the University of Pittsburgh's Center For Integrative Medicine it is highly likely we know someone who can no matter where you are located. If your health challenges are best suited for a professional in another discipline of medicine we are more than happy to connect you with someone who is better suited to deliver the support you need. The center consists of classically trained doctors, chiropractors, acupuncturists, etc… that are highly skilled and thoughtful professionals.
Simply fill out the intake form at the link below to get started, afterwards you will be directed to an online calendar where you can book this initial phone consultation at your convenience. We look forward to learning more about you!